Yao Ming retired today. In 8 NBA seasons, Yao averaged 19 points, 9 rebounds, and 2 blocks a game. He was an All Star every year of his career.
It's really a shame the back half of Yao's career weren't as fortunate (health-wise), as the first half. No basketball player I've ever seen was at committed to his craft as Yao was to his. There was never one single second that ANYONE could ever question his work ethic and loyalty.
The Hardest-Working, Loyal Player I've Ever Seen:
Historically, big men of his body type usually don't hold up for entire NBA career. Yao never once hinted at leaving Houston; never once was there a trace of controversy surrounding his name. Every offseason, instead letting his fragile body heal and rest, he would go to China and play
even harder
for his national team. His teammates all consider him a friend. During these last few years of the injured years, he was always there on the bench, dressed in a suit , involved and cheering on his team.
How many number one overall picks of ANY sport have put in work like Yao? He worked like he was an undrafted free agent, like he never had a max contract. Yao never lost his humility, even though he was
in Superbowl commercials
in his rookie season. He lived his life with the past constantly on his mind.
Hall of Famer:
Most people will say that Yao doesn't deserve it based on his numbers and lack of Championships. Yao was always bullshitted by the refs. It didn't matter how much he was fouled, it was ignored. If he went to the line as much as he
should have
, he would've averaged 25 a game for his career, EASY. Dirk would have a 19 point average if the refs called him the same way they called Yao all those years.
Yao never had the team around him to succeed. Steve Francis? NO. Tracy McGrady? Even MORE injury-prone, except
T-Mac was basketball's biggest quitter
. All the other role players we ever had were washed up veterans or young guys, who weren't good enough to play the great defense we played AND score enough points to win a championship.
A lot of other people will maker the "contributor" arguement, as Yao was basketball's most important ambassador ever. Talk to anybody in business, and they'll tell you about the importance of an open market in China. After America's economy, it is the most important one in the world. Yao ushered the NBA and all of those sponsors and affiliates into China. Hell, even Shane Battier had
his own pair of shoes there.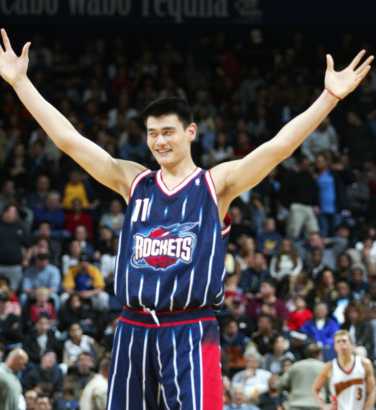 Closing Thoughts:
My opinion is a little bit of all the arguments. Yao was wildly popular; love em or hate em, you knew him. You didn't know him the same reason you knew Shaq or some other more flamboyant athlete. Yao was a great offensive player, an ambassador to the game, and immensely important to the NBA and basketball as a whole.
I'll leave yall with this play. If this doesn't scream "HALL OF FAMER", I don't know what does: